Roger J. Baccigaluppi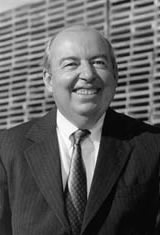 After serving in a variety of sales, advertising and marketing positions with Blue Diamond, elected President and Chief Executive Officer in 1975. Retired from that position December 31, 1991. Founded RB International; November, 1992.
A leader in world trade, has played a major part in the increased consumption of food and agricultural commodities and consumer products worldwide. Served as Chairman, California Chamber of Commerce (1995), continues to serve as Director. Also served as longtime chair of the International Trade Committee. Was a Director and past Chairman of the National Council of Farmer Cooperatives, Chairman, University of California Center for Cooperatives Policy Advisory Committee, Director and Vice Chairman of the Agricultural Council of California and Director of the Grocery Manufacturers of America.
Also has served on the Rabobank Nederlands US Agribusiness Advisory Board, and the boards of DFA of California, Almond Board of California, Los Rios Community College Foundation, Mercy Hospitals Foundation, Health Care Roundtable of Sacramento and United Way of Sacramento. Appointed by Gov. Edmund G. Brown, Jr. to California Advisory Council on Economic Development. Continues to serve as Chairman, Community College Foundation, Vice Chairman, California State Railroad Museum Foundation and member of the board of AgriNova Corp. and U.S. Agriculture Trade Policy Advisory Committee as well as other civic, business and political committees.
Appointed to the Advisory Committee on Trade Policy Negotiation (ACTPN-highest level trade advisory group to U.S. government) by President Reagan in 1983 and then reappointed by Presidents Reagan, Bush and Clinton. Received the Sacramento Chamber of Commerce "Agribusiness Person of the Year" award, inducted into the Greater Sacramento Business Hall of Fame and received the Sacramento "Best in Business" award.
In October 1992 received the prestigious California Council for International Trade "Golden State" award. Served as Northern California Chairman of Californians for NAFTA and US Co-Chair Pacific Economic Cooperation Council Forum on Pacific Food and Agriculture, I and II. Appointed Commissioner, California State World Trade Commission by Gov. Pete Wilson, 1993, and reappointed several times.
Received BS from University of California, Berkeley, MS from Columbia University Graduate School of Business, New York. Prior to joining Blue Diamond Growers, held various positions in advertising and publishing fields in New York, Los Angeles and San Francisco